Instagram Reels v/s Instagram Stories
So Instagram innovated and learnt quickly from its nemesis – TikTok.

But many can't distinguish one from the other. They often ask -
How Instagram's famous reels are so different from Instagram stories?
Instagram stories and Instagram reels are an inbuilt feature of Instagram that lets user share photos and videos apart from the feed and Igtv. But both the add-ins are very different from each other in terms of usage.
Let's talk about both the features -
What are Instagram reels and stories?
How Instagram reels different from Instagram stories?
What kind of content to use in these features and when?
Within Instagram, Instagram features work like a whole different platform while targeting a different set of audience.
Let's take a quick overview of what's a reel and a story.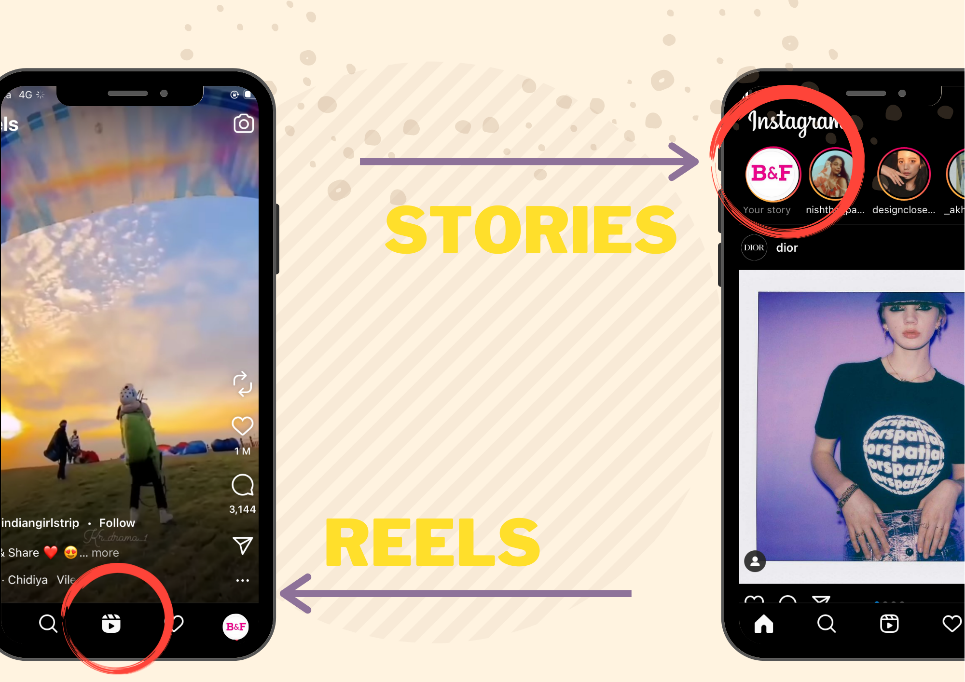 What are Instagram reels and stories? What can you do with them?
Instagram reels
In November 2019, Instagram upgraded itself with another mind-blowing addition, Reels!
Reels are an on-spot multi-clip video creation and editing feature on Instagram that lets you create simply fantastic videos. After a successful trial in Brazil, reels are now made available in 50 more countries.  One can add various augmented reality effects, set a time limit clip, change speed and alignment for a smooth transition and the over-the-top feature of adding music. One can insert music pieces from the Instagram library or create music abbreviated to themselves. As cool as reels sound, they have been a great amplifier of audience interaction and improved traction. With more updated features, one can make a remix of the existing reel. In short, the Instagram reel is a big move to compete with other apps like TikTok.
As for marketing, reels are a way for your brand to participate with the audience in ever-changing trends.
Instagram stories
The good old feature, Instagram-Stories, launched in the year-2016, is still a highly used snapchatty feature of Instagram.
The simple, fun, and interactive feature of Instagram stories let brands and creators interact with the audience daily. One can easily make a short video or use a photo with never-ending features like – move and resize, text and stickers, filters, music, polls and quizzes etc. Stories are positioned at the top of the page and give daily updates like highlights, feature, collaboration, and behind the scenes.
Stories hold more human connection and interaction. Instagram stories are a great way to reach the target audience as an ad type.
What makes famous Instagram reels different from Instagram stories?
Visibility – 
Stories are visible for 24 hours and can be later seen in profile if saved in highlight. Reels stay in the feed/profile section as long as the account holder wants to.

Shareability
Due to visibility length, stories are hard to share. Reels can stay in the inbox throughout.


Search and Explore –
Reels are easy to find in explore tab. Stories are often visible when one is looking at a particular brand.

Hashtag pages –
Reels are easy to feature using hashtags as the consumption is easy and high. Stories also use hashtags however, it is hard to feature on hashtag pages.


Save and Remix –
One cannot save or remix Instagram stories. Reels are easy to remix and available to save.

Editing Tools –
Stores have more interactive editing tools like polls, ask me, challenge etc. Reels created keeping content and video style in mind.


Content –
Stories are more raw and candid content. Reels are pre-planned for branding.


Suitability –
Stories best used for personalised content, reels work best with content creation mindset.
Since its debut, Instagram reels is in the spotlight for users, creators, brands, and everybody!. Brands and content creators are using reels extensively to talk about product and services. 
To keep people off from platforms like TikTok, Instagram's strategy to launch reels have been a winning game for them and brands too. Instagram stories use the content to keep the interaction with the audience consistent.
What kind of content to use in these features and when?
While reels are content-driven, stories are more raw and personalised.
Instagram reels can take a brand presence on a whole new level by using reels as a part of video advertising. With the ability to reach more users, top of the funnel content is a surpassing option for brands to cover.
Value-packed content is the right way into reels marketing.
For stories, connection building content works best. Audience who view stories are generally on their buying journey hence promotional content can help your brand nurture your relationship with the customer.
As part of your 360 marketing plan, include reels for brand awareness & growth and Instagram stories for engagement & sales.
Pro tip – While using both features, it is significant to establish the goal and designs. Making Instagram stories and reels is a tricky creative job. Hence, using them at the right stage with designs and ratios is crucial. You can learn more about what ratios and other specifications of these Instagram features to keep in mind.
To conclude, long answer short
Both Instagram Stories and Instagram Reels together in marketing strategy will help your business grow and engage the audience. Using these features strategically, brands can become more credible and can build trust among the viewers.